28 Beautiful Bedroom Fireplaces
Posted in Angelcityfurniture
A bedroom should be a warm and welcoming retreat at the end of the day, and a fireplace is the perfect solution for turning a plain space into supercozy sleeping quarters. Whether you use it to add extra heat or just bring style and architectural detail, a fireplace instantly enhances a room. These interiors from the AD archives offer renovation ideas and decorating inspiration to show you how to incorporate a fireplace into your bedroom. From sleek surrounds to ornate marble mantels, there's a fireplace to fit with any decor. Click through to see how top designers, including Steven Gambrel, Rafael de Cárdenas, and Michael S. Smith, have used fireplaces to make intimate and relaxing spaces even more beautiful.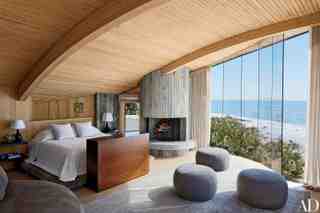 With an assist from interior designer Waldo Fernandez and architect Michael Kovac, business dynamo Jamie McCourt breathed new life into a John Lautner beach getaway in Malibu . In the master bedroom, Jean Royère–style poufs clad in a de Le Cuona linen are grouped on a cashmere carpet by Mansour Modern; the coverlet is made of a Lee Jofa linen, the walnut cabinet conceals a pop-up television, and the concrete fireplace is original to the house.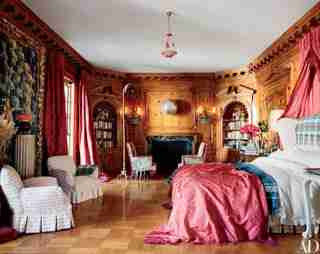 The master bedroom in photographer and antiques dealer Matthias Vriens-McGrath's Los Angeles home retains the knotty-pine paneling installed by Haines. Window and bed curtains of red Lelièvre fabric strike a regal note. By the fireplace, a pair of Napoléon III armchairs are covered in a Colony velvet with custom-made fringe.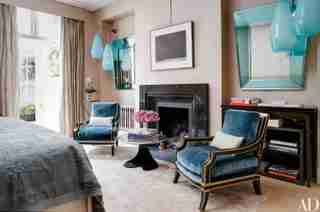 Mirrors by FontanaArte and pendant lights by Garouste flank a Nigel Cooke painting above a guest-room fireplace in designer Francis Sultana's historic London house . The chairs are vintage Jansen, and the carpet is by Fort Street Studio.
At Jane Fonda's New Mexico ranch , a 19th-century Mexican religious painting hangs above the fireplace in the master bedroom; the wood sacristy cabinet is 18th-century Mexican, and the double doors are antique.
Architect Tim Blonkvist used polished alabaster on the fireplace surround in this Santa Fe master bedroom , which opens to an outdoor spa and views of the ski basin.
At the Napa Valley, California, home of Don and Rela Gleason, which was designed with architect Bobby McAlpine, a limestone mantel by Atelier Jouvence accentuates the fireplace in the master bedroom. Andrew Fisher of Fisher Weisman created the bronze bed, which is draped with an antique suzani.
In the master bedroom of a New Jersey estate renovated by architect Annabelle Selldorf and designer Matthew Frederick, the fireplace is framed by a Gracie wall covering. The bed, designed by Frederick, is upholstered in a Casamance silk from Angela Brown and accessorized with a B. Viz Design appliquéd pillow; the table lamp is from Circa Lighting.
A Samsung television is mounted over the fireplace in the master bedroom of a Manhattan duplex decorated by Steven Gambrel. Designed by Gambrel and crafted by Dune, the mahogany bed is upholstered in an Old World Weavers fabric and dressed with custom-made bedding by E. Braun & Co.; the curtains are of a de Le Cuona fabric.
A fire glows in the master bedroom of Giorgio Armani's Swiss retreat . A fur coverlet is draped over the designer's Armani/Casa bed, which is dressed with a bedspread and bolster of a Rubelli fabric; the side table is mahogany with a black nickel base.
Hugo Lugo watercolors are displayed on the walls and above the fireplace in the master bedroom of film director Tate Taylor's Mississippi home . The walls are sheathed in a Kvadrat wool, and the furnishings include a blackened-brass ceiling light by Orange, a 19th-century canopy bed, and (at right) an A. Rudin chair and ottoman upholstered in a Zimmer + Rohde fabric.
In a Westchester County, New York , home designed by Vicente Wolf, the master suite's Queen Anne–style bed is upholstered in a Zimmer + Rohde linen, and its curtains are made of a Champagne-hued silk by J. Robert Scott; the artwork above the mantel is by John Baldessari, and the chair and neighboring side table are from VW Home.
One of the walls in the master suite of a Manhattan townhouse renovated by Annabelle Selldorf is sheathed with panels of stained oak and features a sleek fireplace; the flat-screen television is by Samsung.
A sunburst mirror is displayed above the fireplace in a guest room of an upstate New York home renovated by architect John I. Meyer Jr. and design firm McAlpine Booth & Ferrier Interiors. The Peter Hoffer landscape overlooks an Edward Ferrell + Lewis Mittman chair and a Michaelian & Kohlberg carpet.
In the master suite of designer Ray Booth and TV executive John Shea's Nashville, Tennessee, home, there is a work by Eric Blum and an Alison Berger sconce for Holly Hunt above the fireplace.
At the contemporary Nashville house of philanthropists Jennifer and Billy Frist, photographs by Steven Klein and Sante D'Orazio grace the master bedroom, which features a sleek fireplace.
In the master bedroom of a Nantucket, Massachusetts, home designed by Jacobsen Architecture, a J. H. Dolph painting hangs above a fireplace with Creel and Gow selenite logs.
In this Manhattan penthouse designed by Rafael de Cárdenas, an artwork by Rammellzee hangs over the master suite's bed, which is dressed with a cashmere blanket by the Elder Statesman. The photographs above the fireplace are by Roni Horn, the Milo Baughman lounge chair is from Craig Van Den Brulle, and the carpet is by Inigo Elizalde Rugs.
At designers Andrew Fisher and Jeffry Weisman's home in San Miguel de Allende, Mexico, a watercolor by Fisher is mounted over the master bedroom's mantel, which is flanked by, from top, a pair of Fisher's pencil drawings of seashells, two of his gilded tapestries, and a set of antique embroidery panels.
At this Michael Smith–designed home in California, a pop-up television unit by David Iatesta stands at the foot of a Queen Anne–style bed in a guest room; the table lamps are from Christopher Spitzmiller, the circa-1900 chest of drawers is from Lee Stanton Antiques, and the circa-1750 lacquer armchair is from Hollyhock.
In the master bedroom of a Philadelphia-area house designed by Thomas Jayne, matching custom-made slipper chairs, covered in a Claremont fabric, flank the fireplace. The all-white canvas is by Robert Ryman, an early John Baldessari work hangs above a Dutch neoclassical chest, and the rug is from Patterson, Flynn & Martin.
In a guest room of a Sagaponack, New York, retreat, designed by Christoff:Finio Architecture, an Aboriginal fiber mat is displayed behind the Room & Board bed; the 1950s chairs are from Neo-Studio, and the rug is by Jonathan Adler.
In the master bedroom of this Manhattan townhouse designed by Robert A.M. Stern Architects, an artwork by Frank J. Boros, hand-painted Gracie wallpaper, and curtains of a Brunschwig & Fils satin join a minimalist mantel.
In the master bedroom of a Boston residence devised by Thad Hayes Inc., a 1950s Austrian pendant light from Eric Appel is juxtaposed with late-19th-century Moorish chairs and a 1920s armchair attributed to Paul Poiret's Atelier Martine from Bernd Goeckler Antiques; the carpeting was custom made by Tai Ping.
Antique botanicals decorate the master bedroom of this California home designed by Suzanne Rheinstein & Assoc. The chair and ottoman are by A. Rudin, and the bed features a Rheinstein-designed headboard and bed skirt, both in a Kravet fabric, as well as a silk coverlet by RH.
In the master bedroom of Gisele Bündchen and Tom Brady's former California home, the chandelier and the sconces above the mantel are by Gregorius/Pineo; a Joan Behnke–designed sofa clad in a Loro Piana linen faces a Dennis & Leen low table, and the custom-made rug is by Tai Ping.
In the master bedroom of this Montana home devised by Michael S. Smith Inc., Nancy Koltes bed linens make an inviting statement on a custom-made walnut four-poster by Smith. The ceiling lantern, armchairs, ottoman, and curtain fabric are all by Jasper, as is the dahlia print used for the chairs' pillows.
In the master suite of a New York apartment, interior designer Francis O'Haene framed a minimalist fireplace with limestone shelving; the television is by Samsung, and the nightstand is by Giorgetti.
In the master suite of a Malibu home decorated by Denise Kuriger, a Matthew Brandt photograph is mounted over the fireplace, and ink drawings by Van Hanos are displayed above the bed. The sofa and bed, conceived by Kuriger and architectural designer Scott Mitchell, are upholstered in de Le Cuona fabrics; the low table is from JF Chen.