3 Beautifully Restored Homes Now for Sale
Posted in Angelcityfurniture
Embarking on a total restoration of a historic estate can be a daunting task, as evidenced by our November issue , which spotlighted breathtaking homes around the world that have undergone painstaking renovations. Thankfully, the owners of these three properties have already done all the work—and the resulting masterpieces are now available for purchase. In Tuscany, for instance, a local entrepreneur has majestically revived a 17th-century villa once owned by Napoléon's sister, the Princess of Lucca. Across the Atlantic, in the midcentury modern mecca of New Canaan, Connecticut, Marcel Breuer's own home from the 1950s received a comprehensive overhaul by AD100 architect Toshiko Mori . And right outside of Philadelphia, KingsHaven Design breathed new life into a grand Gothic Revival manse, originally designed by William Price over a hundred years ago. Take a tour of the three estates below.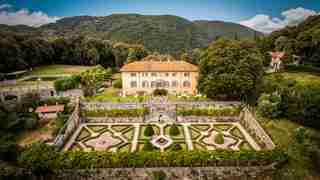 Once owned by Napoleon's sister—Princess of Lucca—this 17th-century Tuscan compound encompasses 274 majestic acres overlooking the Tyrrhenian Sea. Some 20 years ago Italian entrepreneur Giuliano Baldini set about refurbishing the five-bedroom main villa with the help of local craftsmen.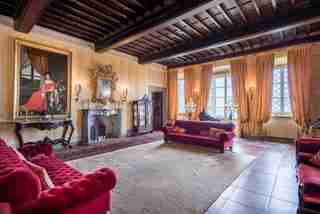 Preserved details include marble fireplaces, wood-beamed ceilings, and terra-cotta floor tiles, while a heated pool, elevator, and helipad are among the property's luxe upgrades. The grounds include an olive-oil farm and centuries-old gardens, the latter providing a noble backdrop for alfresco entertaining.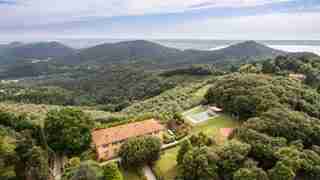 Listed for $14.5 million, this 27,000-square-foot home has 5 bedrooms and 7 baths. Contact: knightfrank.com ; +44-207-861-1058
Legendary modernist Marcel Breuer crafted this 1951 masterwork in New Canaan, Connecticut, as his personal residence. He sold the dwelling 24 years later, and by 2005 it was in danger of being demolished. That's when the current owners stepped in, working with AD100 talent Toshiko Mori on a comprehensive update.
In addition to reviving finishes according to original plans, Mori created a cantilevered two-story addition with striking glass walls. The resulting four-bedroom home is complemented by a fieldstone-walled pool area and poolhouse dating from the 1980s.
Listed for $5.25 million, this 5,580-square-foot home has 4 bedrooms, 4 baths, and 2 half baths. Contact: houlihanlawrence.com ; 203-977-3566
KingsHaven Design and John Milner Architects recently revamped this late-19th-century Gothic Revival mansion by Philadelphia's William Price, the architect of many such Main Line estates. Among the original features spruced up in the restoration are hundreds of stained-glass windows, quartersawn oak flooring, and the home's stately brick-and-limestone façade.
The team also enlarged the six-bedroom house with a historically sensitive extension and enclosed porches. Perhaps best of all is the luxuriously reconfigured master suite, where an ornate cast-iron spiral staircase now leads to a secluded loft. Pictured here is the incredible double-height entrance hall, complete with a carved-limestone fireplace and double stairway.
Listed for $8.5 million, this 11,500-square-foot home has 6 bedrooms, 6 full baths, and 2 half baths. Contact: kingshavenproperties.com ; 484-380-9300