8 Small Living Room Ideas That Will Maximize Your Space
Posted in Angelcityfurniture
For many inhabitants of studio apartments and small homes, the question is not just how to make the living room furniture layout work; it's how to make it all work in a way that serves ten purposes while still leaving room to breathe. A living room is often the hub of a house, but when it's cramped and narrow, choosing and arranging furniture can feel like an impossible math problem. The good news is that it's possible to have a small living room that can do it all and still feel (relatively) spacious.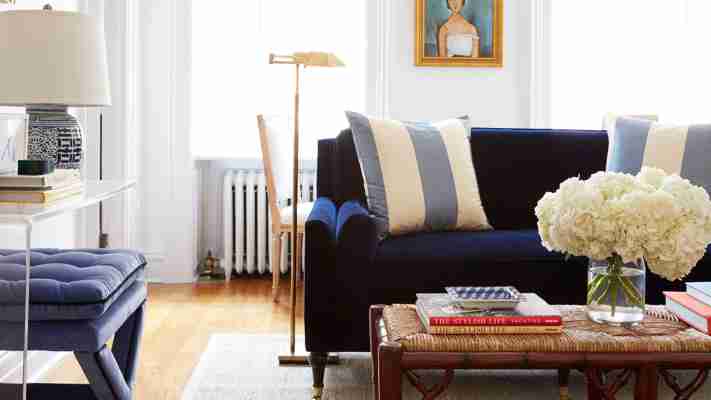 One key to maximizing the potential of a small living room is carefully selecting furnishings that fit the space and can serve multiple purposes. Another important part of the process is getting creative with your layout and finding ways to arrange your furniture to make use of every square foot, even those awkward corners. From there, you'll want to choose decor, such as art and mirrors, that adds personality without taking up space. Whether you're starting from scratch in a new space or are feeling cramped in your current living room, there's a solution to your woes. We've gathered the best small-living-room ideas to help you make the most of your space. Read on to get style tips from the pros and find inspiration for your small space.
Accentuate the Room's Best Features
New York interior designer Christina Murphy approaches a small living room strategically: "Assessing the room's assets and making those the focal point as much as possible is the best way to make the room appealing," she says. If it's got great light, play that up with lighter colors to create a sense of expansiveness; if it has a stunning fireplace, draw attention to it.
Scale Down Furniture
In a narrow living room, every piece of furniture matters. Choose leaner tables and wall sconces to save much-needed floor space. For seating, tight-back sofas and club chairs are your friends, says Murphy: "They can be a lot less deep than loose-back options while still being just as comfortable." Consider wall-mounted shelves and a floating desk over bulky bookcases and workstations.