A Neglected Palm Springs Ranch Transformed Into a Cute (and Rentable) Getaway
Posted in Angelcityfurniture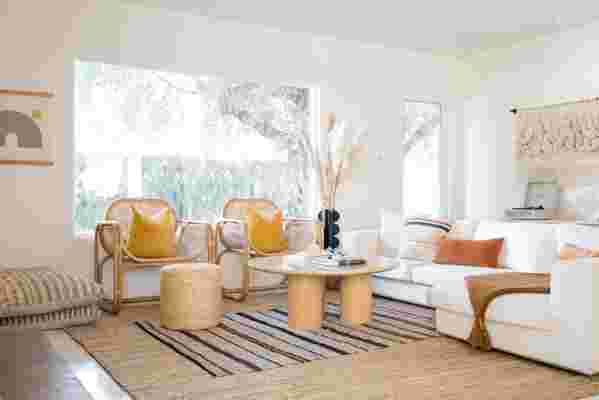 Owner Caitlin Forrest is consistently drawn to furniture with rounded edges, like a travertine coffee table and a set of cane accent chairs.
As soon as Caitlin Forrest started renovating her compact house in L.A.'s Silver Lake neighborhood by hand, she was hooked. The advertising producer taught herself to use tools on the job and fell in love with slowly transforming the space. So when her mom suggested they purchase an investment property together, Caitlin jumped at the opportunity to tackle a fixer-upper.
The duo zeroed in on Palm Springs for its hot rental market and found a neglected ranch-style home in the desirable Tahquitz River Estates. Built in the 1960s and once owned by a Western film star, the spot had fallen into disrepair but had potential. With drawbacks, including a rotting roof and excessive Saltillo tile, came compelling features, such as native citrus trees and an original stone fireplace. Most important, though, Caitlin had a vision.
BEFORE: Closed off and tight, the old kitchen was unwelcoming.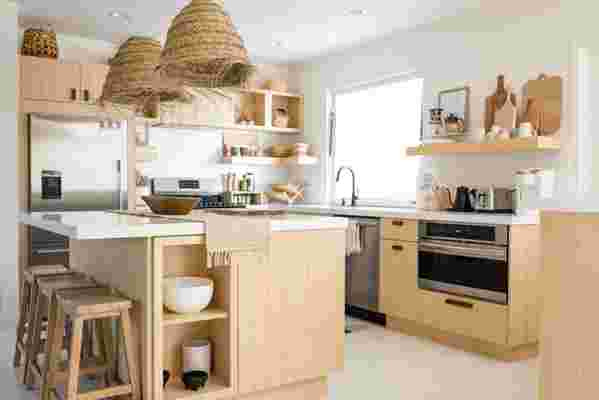 AFTER: "It's so nice when you're there with friends because everyone gathers around the island," Caitlin says. "The living and dining rooms are right there, so everyone's always involved. You're never feeling left out."