Aging in Place Home Modifications
Posted in Angelcityfurniture
No one imagines themselves growing old in a nursing home. If at all possible, we'd all prefer to spend our twilight years in the houses we've turned into homes, near the people and places we love. Thanks to advances in technology, wider availability of services for the elderly at home, and most importantly, the advent of aging in place design, safely remaining at home and independent is now a viable option for every homeowner.
Aging in place (AIP) does not mean sterilizing a home to resemble a hospital. Rather, it means working with a Certified Aging in Place Specialist (CAPS) to tailor a home in a way that makes life easier for senior residents as they age, or disabled family members of all ages. The following examples of common aging in place home modifications make the home more comfortable and more convenient without sacrificing any aesthetic appeal. Best of all, most of them can be done for a fraction of the cost of a single year in an assisted living facility.
Secure and Convenient Exterior and Entryways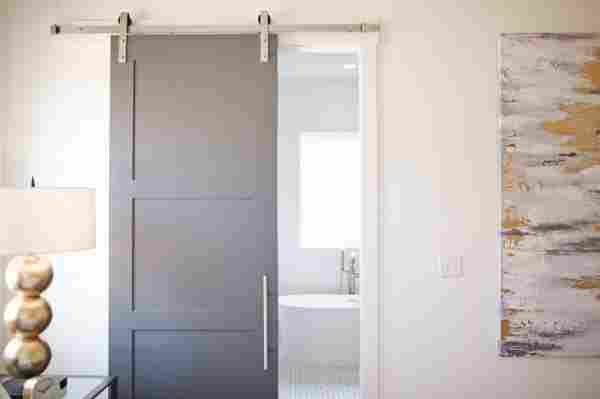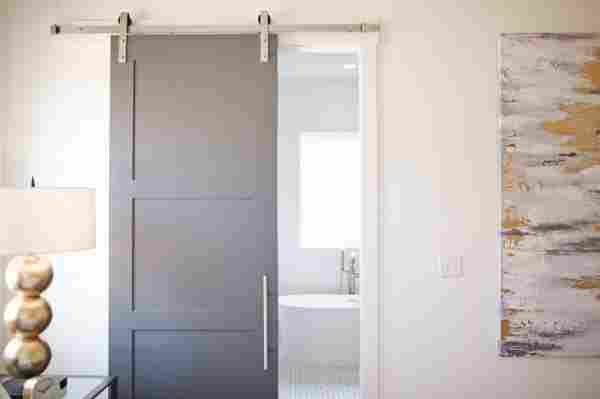 Sliding doors are easier to open and are less of a hazard in the home.
Thoughtful AIP design begins before you ever enter the home. Integrating a wooden or concrete ramp into a deck or landscape design is one of the most common home modifications for elderly homeowners. But having at least one step-free entrance at ground level is important, as well. Add handrails at steps and porches that are already there.
Safety and convenience are important considerations for the exterior, as well. If not already present, you should install a roof or canopy to protect the main entrance from inclement weather.
For interior doorways and walkways, you need at least 36" of clearance to accommodate wheelchairs and walkers. Even doors on load-bearing walls can be widened as long as you take proper precaution to support the weight temporarily. Whenever possible, use sliding doors instead of conventional swing doors.
A Kitchen with Everything Within Reach
Although they're often the family gathering place, kitchens pose a number of challenges or even hazards for seniors. Any thorough aging in place remodeling should definitely include the kitchen.
Much of modifying kitchens for AIP means making things easily accessible: raising the dishwasher or installing an adjustable height sink and pull-out shelves and cutting board. Multi-level countertops (with rounded corners) can be put in to accommodate both those who prefer to stand while preparing food and those who need to sit.
Moving appliances may not be enough; you may need to simply replace them. For example, if the cooktop's controls are located on the top, buy one with controls on the front. A single-lever, anti-scald faucet delivers an obvious form of protection from injury. Side-by-side refrigerators offer the best accessibility and should have long handles and slide-out shelves. A side-opening oven is also safer than one with a swing door, avoiding the need to lift heavy trays of food over the door.
Bathrooms: Safeguarding the Most Dangerous Room in the House
More accidents–especially falls– occur in the bathroom than anywhere else in the average American home. Here are some tips to keep in mind when doing a bathroom remodel for seniors:
Shower and Tub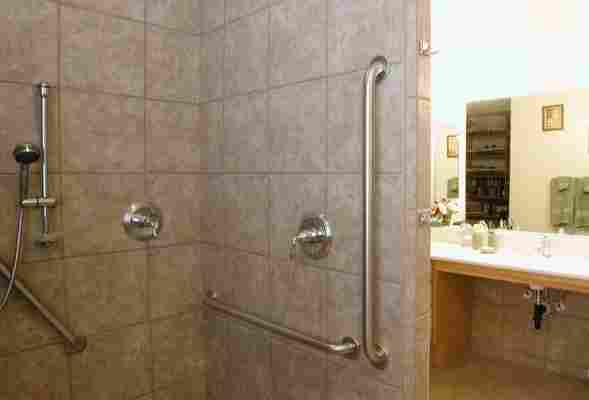 A shower with multiple grab bars for additional support. Photo credit: Nancy Hugo, CKD .
Toilet
Safer Stairs
In most cases you'll have to modify stairs to make them workable for seniors in a two-story home. We recommend having no carpet on stairs and instead using a material like non-slip vinyl. If you opt for carpet, it should be no more than ½-inch pile and you have to check it thoroughly to make sure it's fully secured throughout. A sturdy handrail on both sides is a must, regardless.
Seniors in older homes may discover their stairs are too narrow or too steep. The stair treads need to be 10"-11" deep, wide enough for the entire foot. The rise should be a maximum of 7" from one step to the next. Stairs can be widened without completely remodeling the staircase, but making them less steep means a complete rebuild.
Laundry Room, Closets, and Storage
Much like the kitchen, the laundry room needs to grant easy access to appliance controls and cleaning items. It's best to have the laundry room on the main floor, close to bedrooms and bathrooms. The (front-loading) washer and dryer should be raised on platforms or stacked. The folding table should be wide and easy to reach, and storage areas placed at various heights to suit different needs.
Double clothes bars in closets–one low and one high–allow items to be stored and reached from both a seated and a standing position. Adjustable-height, open shelving removes the hassle of drawers and happens to be very on trend in modern households .
General AIP Features
These are the home modifications to keep in mind when remodeling or updating any part of the house:
Colors
Use contrasting colors throughout the home to make features more visible. For example, use different colors for flooring and stairs so a senior can easily tell where the stairs begin and end.
Levers
Lever-style handles on doors, windows, and faucets are easier on arthritic hands than knobs or other types of handles.
Cabinets
Here's a modification that's free: remove the doors of cabinets in the kitchen and elsewhere. This can be very helpful for visually impaired people and family members who have difficulty handling things. If leaving the doors on, opt for nice, big cabinet pulls.
Laying the Groundwork
Remodeling a bathroom? It makes a lot of sense to reinforce the shower wall while you've got the chance, even if you're years away from needing grab bars. Adding 1/2"-thick plywood to the wall before applying the drywall and tile will save you the hassle and expense of ripping up the wall years from now when the time comes for extra support. Similarly, installing plumbing on the main floor today will make it much easier to relocate the laundry area when climbing stairs becomes impossible.
AIP and Smart Technology
A home assistant, like the Google Home, can offer important interaction. Photo credit: NBD Photos .
Seniors have the tendency to resist incorporating new technology into their lives, but if they can be convinced, smart devices can help them be safer at home, as well as more comfortable.
As the AARP has identified isolation among seniors as a significant problem, a voice assistant like the Amazon Echo or Google Home provides a companion of sorts, as well as a useful tool. Without having to get up or use their hands, seniors can play music, make calls, get news and weather updates, record notes, and much more using only their voices.