Ashley Tibbee 99101 Livingroom Set in Slate
Posted in Angelcityfurniture
FREE WHITE GLOVE DELIVERY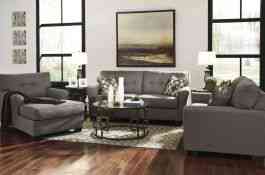 We use only the best shipping companies to make sure your new furniture arrives in perfect condition.
All orders on our site over $999.99 are shipped via FREE WHITE GLOVE DELIVERY. We don't accept any orders under $999.99 per brand because of the high costs of white glove delivery, which we provide for free.
What is White Glove Delivery?
A white glove delivery team consists of trained specialists that provide in-home delivery of most furniture. Once your order is ready for delivery, a representative will contact you to arrange a window of time for delivery that is convenient for you.
The furniture will be brought into your home into the first dry area of your residence, which may be your foyer, garage or apartment. The boxes will not be unpacked by the delivery team.
What is Gold White Glove Delivery?
The team will bring the item inside your residence to the room you choose. This includes carrying the product up two flights of stairs from the building threshold (up to 15 steps = 1 flight). If you need the product moved up additional flights, please contact us within 24 hours of placing your order as additional fees may apply.
The team will unpack the product and provide basic 30 minute setup that requires no tools set pieces next to each other, or on top of each other).
Upon your request, the delivery team will remove all packaging and debris and bring it to the garbage area of your home.
What is Platinum White Glove Delivery?
Includes everything above, plus complete setup and assembly that requires basic tools pieces will be screwed or bolted together, pieces will be set next to each other or on top of each other). We will also remove all packaging and dispose of it, if requested by you. The delivery team is not authorized to hook up any electrical or component wires.
The delivery team is unable to assemble any furniture not bought from our company due to liability issues.
Items carried up more than 30 steps, longer assembly periods, and other extraordinary delivery services are available as additional services which will require additional fees to be paid. Please contact us in advance if you feel you need these services.
For additional info, please contact us at 407 530 1770