Here's How One Couple Built a Carbon-Neutral Home Totally Off the Grid
Posted in Angelcityfurniture
When Simon and Donna Beckmann moved to Andalucia, Spain, in 2009 they were seeking adventure—but what they got was a project. "We had sheep shit waist height through most of the guest house," Simon recalls. "The floors were mud. No electricity. No plumbing. No water either. It was February and it was about minus five." Others would have turned and run, but they were ready for a change. "Obviously, we saw an opportunity!" An all too comfortable life in London was losing its luster; the Beckmanns wanted to move to Europe and open an artist residency. So despite the obstacles, they bought the house, a historic property located in the Andalusia region of Spain. This fairly remote location presented typical building challenges of rural areas: Materials had to be brought in from nearby areas along a dirt road (the only access point) and there wasn't any running water or electricity. Add to that the fact that their property is in the middle of Sierra de María-Los Vélez Natural Park, which meant construction beyond the original footprint of the house was prohibited, and what they had on their hands was a very unique building challenge.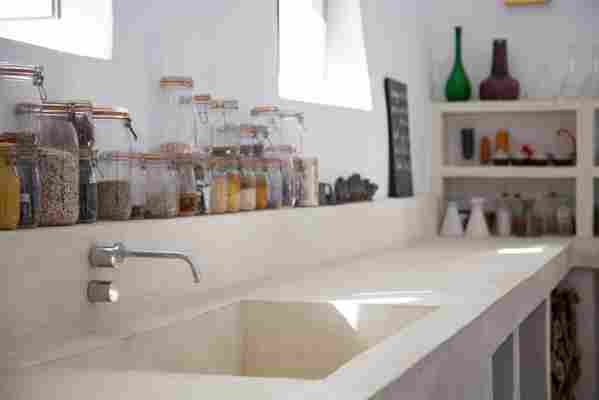 Additionally, the Beckmanns were committed to making their new home sustainable by recycling everything—and we mean everything . All the electricity on the property is generated by a wind turbine in their backyard, and energy for hot water comes from solar panels. A grey water filtration system collects all the waste water from basins, showers, and the dishwasher and transports that to a giant reed bed on the property. In turn, those reeds can also be used as a structural material, either in the gardens or as shade around the house. "We are 100 percent carbon neutral," Simon says.
So how'd they pull it off? A healthy dose of British determination didn't hurt, but their natural DIY savvy and effortless minimalist style is what made the project sing in the end. Now, they host artists from all around the world for one to two weeks at a time, all year long.