If You Have Blank Wall Space and Like to Upcycle, You Can Have a Vintage, One-of-a-Kind Pantry
Posted in Angelcityfurniture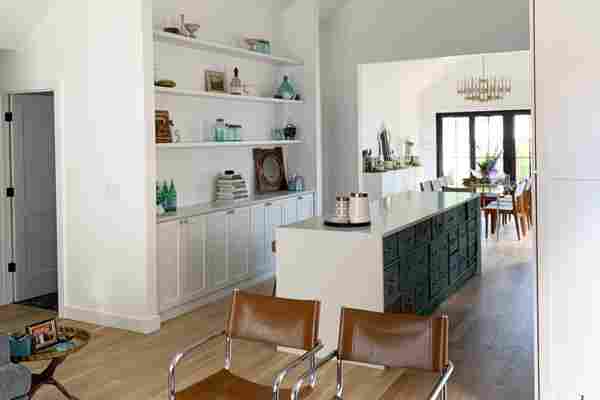 Health and productivity educator Sunny Amirpor 's design motto is "Reduce, Reuse, Recycle," and her sustainable style is on full display in the newly built Chicago home she shares with her husband and son. "I have always been obsessed with architecture, interior design, and sustainability," she says. To that end, for Amirpor, it was important to partner with an architect and a builder willing to work with her design inspo and incorporate her eco-friendly home requirements into her space, many of which included clever upcycling ideas.
One such project involved repurposing a massive, 10-foot long antique general store counter that had been stored away in her garage for years, just waiting for the right space. Once the counter was cleaned, it found new life as the base of an oversized kitchen island. That wasn't the only clever reuse idea she came up with for her kitchen area though. Since she wanted to keep the footprint of the family's new build relatively small, there wasn't quite enough space — even in her family's sizable galley — for a big, walk-in pantry. Not to worry; Amirpor had a plan, and it involved vintage lockers and her laundry room.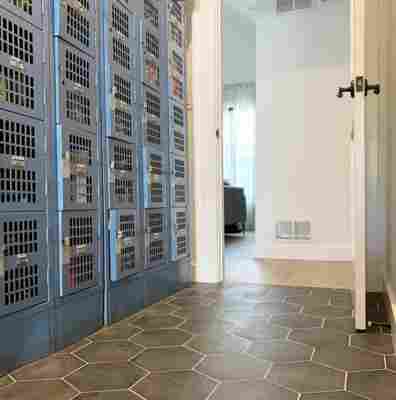 To be specific, Amirpor sourced three sets of vintage high school lockers from two Chicago area schools, placing them along a blank wall in her laundry room to create a unique free-standing pantry. It might seem slightly random to store dry goods and other food items across from laundry supplies, but the home's back door feeds into the mudroom and laundry space, which flows right into the pantry space. Building out the pantry here makes putting away groceries that much easier, and it's close to the kitchen for access while cooking, too.
"I look to maximize our small space with smart DIYs and multi-functioning spaces,"Amirpor says. "Being organized and having a space for everything makes our small home feel spacious and clutter-free, even with a four-year-old in tow."
While her entire home is stylish and thoughtfully designed, these sustainable kitchen and kitchen-adjacent decor ideas stole the show in my opinion — the locker pantry in particular. All you'd have to do to replicate this look is find a few lockers at a flea market or salvage store and stack them up to the ceiling or side-by-side, secure them to the wall (or to each other), and you're good to go. I could see lockers being used in a mudroom to corral coats or bags this way, too. Not only does Amipor's home prove that sustainability can be stylish, it also proves that one person's trash can truly be someone else's treasure.