Move Aside Mudcloth: This is The New "It" Home Textile
Posted in Angelcityfurniture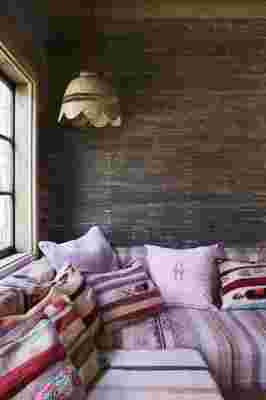 Perhaps you've currently got a piece of mudcloth casually draped over the foot of your bed or the edge of your sofa. It's probably been happily living there, undisturbed, for a couple of years without so much as a second thought. You might be surprised to learn, however, that a new fabric is taking the design world by storm. If you haven't heard of cactus silk, allow us to introduce you. This more colorful take on cloth is the perfect dose of color for any neutral palette, and can even serve as the inspiration piece for a room's entire decor scheme.
While mudcloth gets its name from the Malian process of printing and drying fermented mud onto a piece of handmade cotton fabric (usually a coarse, textured muslin or burlap), cactus silk comes from—you guessed it—the natural fibers of cacti. Animal lovers, take note: this silk is derived from vegetable fibers instead of silkworms, for a cruelty-free alternative that looks and feels just as luxurious. The cactus is grown in the Saharan desert, while the fabric is hand-loomed in Morocco. You can find these beautiful pieces in the markets of Marrakesh or, for some options much closer to home, check out our curated assortment of online rugs and pillows below.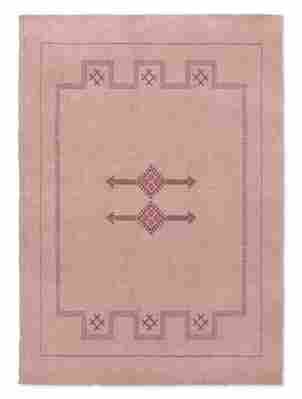 Stellan Silk Pink Area Rug at Wayfair, $135.99
This ultra-soft rug features a sturdy cotton backing for anti-slip purposes. The dusty rose color and southwestern motif would look just as put-together in a nursery as it would anchoring your apartment-sized loveseat.
Sabra Pillow at Laith & Leila, $25
This pastel pink Moroccan silk pillowcase looks way more expensive than its price tag indicates. This website gives 10% of all proceeds to a local village to sustain their culture and improve the lives of the locals. Add in a simple pillow insert (sold separately) and you've got yourself a gorgeous statement pillow for less than $30.
Moroccan Cactus Silk Rug from Riadlifestyle on Etsy, $153.12
This beautiful charcoal grey-based rug features multicolored Aztec-inspired prints and designs that are sure to liven up any space. This item arrives from the Netherlands for an additional fee, but they offer a fairly generous return policy should it not feel at home in your abode.
Green Cactus Silk Rug at Chairish, $630 on sale
Nab this original, Bohemian-style rug at this sale price to spruce up even the most sparsely decorated of rooms. The fabric lends itself to be used as a rug, of course, or even on the wall as a one-of-a-kind art piece. Each rug is ethically crafted by global artisans as well, and is durable enough to justify the higher price tag.
Moroccan Cactus Silk King Size Lumbar Pillow from BryarWolf at Etsy, $170
The unique shape of this pretty cream pillow with mustard yellow, bubblegum pink and cornflower blue accents combine to form a bed-topping accent piece that will inspire you to actually want make your bed in the morning.
Kilim Area Rug at Babasouk, $50
This Canadian-based company sources souk markets in Marrakesh to find one-of-a-kind cactus silk items for a reasonable cost. Since this purple beauty is on the smaller side (3'1″ x 1'8″), it's perfect for a wall hanging. Plus, since it's so lightweight, it can even be hung with simple tacks, nails, or wrapped around a dowel for a special touch.
Cactus Silk Rug at One Kings Lane, $859
This one clocks in pretty high price-wise, but its attractiveness and durability is well worth the splurge. The size of this vintage, handmade rug is generous (8'2″ x 4'3″), and the eye-popping colors will instantly transform any space. It's perfect for a hallway runner, or, if you're extra careful, for the space between your kitchen counter and island. Imagine the contrast between wide-plank farmhouse flooring, marble counters, and this cactus silk beauty? We thought you'd agree.
Multicolor White Cotton and Silk Pillowcases (set of two) at Amazon, $75/pair
These bright and beautiful multicolored pillowcases are the perfect addition to an otherwise serene white bedroom. The colorful stripes poking out from behind your throw pillows will make a subtle but powerful impact. The lightweight fabric feels similar to a Turkish towel—but much silkier. Sweet dreams, indeed!