The Light Catcher in My Kitchen Carries My Brother's Ashes—And My Mother's Love
Posted in Angelcityfurniture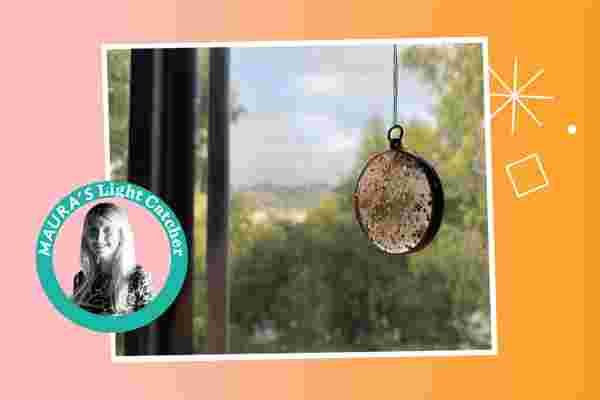 Twenty stories of objects and areas in people's homes that nourish their souls more than their social feeds. Read them all here throughout August.
"Do you wonder if it's… does it feel…" my friend haltingly began, clearly feeling awkward, "maybe a little… morbid?"
I was taken aback. It had never occurred to me that keeping a tablespoon of my dead brother's ashes, baked into a resin light-catcher hanging in my kitchen, was morbid. To me, it's the opposite: a marker of life, and of the way my family shows its love.
My light-catcher is the size of a silver dollar, and depending on which side catches the light, you see either glitter or a gray cloud. You probably wouldn't immediately recognize the cloud as ashes unless I told you, but I've told pretty much everyone who has seen it.
Generally speaking, my immediate family has never much cared for ritual or tradition. We have an independent, self-sufficient streak that disdains anything even remotely mawkish, or maybe that is simply weary of celebrations that take days to plan but that are finished in hours. Christmas gatherings, graduation dinners, big parties, collective grief—not really our thing.
When my younger brother Eric was killed suddenly, my parents asked my sister and me not to join them when they flew to his home in Texas. Instead, Caroline and I sat in our respective homes alone, on opposite coasts, feeling helpless and unhelpful as my parents muddled through what had happened.
A few weeks later, my psychiatrist asked me if I'd seen my family. "No," I said. "Not even for the funeral?," she asked. "There wasn't a funeral," I said, exhausted. "We don't really do funerals." She looked horrified.
I was angry, for a long time, that my parents didn't think it was important for us to be together. It turned into a family crisis, compounding the emergency of Eric's death: my parents needed to confront how hurtful it was that they excluded my sister and me from the last moments of our brother's life, and my sister and I had to understand how overwhelmed my parents were in that moment, and how they were trying to protect us.
But then my parents apologized. And my mother asked my sister and me if we wanted light-catchers she was making from Eric's ashes. Of course I did.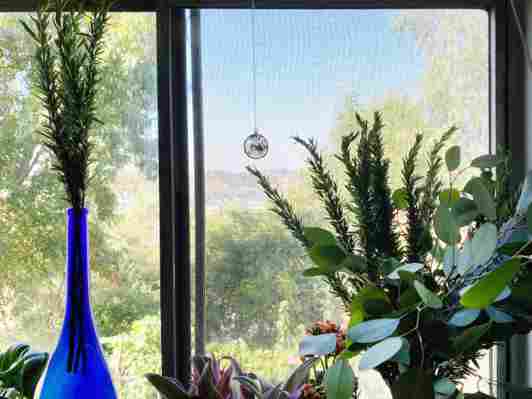 Though my mother doesn't seem to trust most traditional expressions of family unity, she shows her love in her own way: specifically, by gifting decorative objects that help her share her joy in the world. My home bursts with the evidence: a self-portrait she drew in art school in the 1970s on the wall; a ceramic tray shaped like clasping hands on top of my dresser; a cork board covered with handwritten cards, photos and illustrations she copied from books or printed from the internet (my mother made mood boards for decades before I ever heard that term). I keep a sketch that my mother made from an almost 30-year-old photo of my siblings and me, her favorite picture of us, framed on my desk.
Even when my relationship with my parents has been the most distant, I've always kept these physical reminders of my mother's affection in pride of place. They've always been my link to home, and the things we value—creativity, both our own and that of others—even when seeing those reminders of my family's tensions every day has been painful.
The last conversation I had with my brother was a long text chat about two weeks before he died. Eerily, that night we talked about our family, about how we'd both grown to dislike holidays, about our varying degrees of discomfort with our removed family dynamics, and how we could maybe try to make a change. Neither of us agreed to start loving holidays, but we started to plan a vacation, him and his partner and me and our sister. It would have been the closest thing to a family vacation we'd had in 20 years.
"We're both just fine," I said.
"As fine as one can expect," he replied.
"We're honestly both better than fine," I said.
"True, we are pretty awesome," he said. "But as fine as one could expect, haha, we have our problems." Then he texted me a video of himself playing the euphonium in the North American Brass Band national competition.
My mother gave me the light-catcher at the small memorial concert we finally threw for Eric, six months after he died. I tucked it into my purse, terrified of losing it, and spent much of my 20-hour drive home deciding where it should go. I thought about getting a stand, making a little altar-like space. But when I got back, I wanted to see it immediately, with light pouring through. I hammered a bare nail above my kitchen window, strung green thread—Eric's favorite color as a kid—through the light-catcher, and hung it up.
It's so tiny, but I can see it from almost anywhere I sit in my apartment. It feels like my whole family, how strange and independent we are, but how much we also want to be in each other's lives. I don't know for sure, but I think Eric would approve.