What type of couch is best for a small living room?
Posted in Angelcityfurniture
When designing your dream living room, the easiest place to start is with the natural centerpiece of the space: your sofa. But if you have a small living room, striking the balance between scoring a sofa that feels plush and inviting while also meeting your small space constraints can be daunting. From the focal point like loveseats and sectionals, to the pieces of furniture (like ottomans) that make them feel complete, we've put together a few tips (including the best sofas) to help get you started, no matter your style or square footage.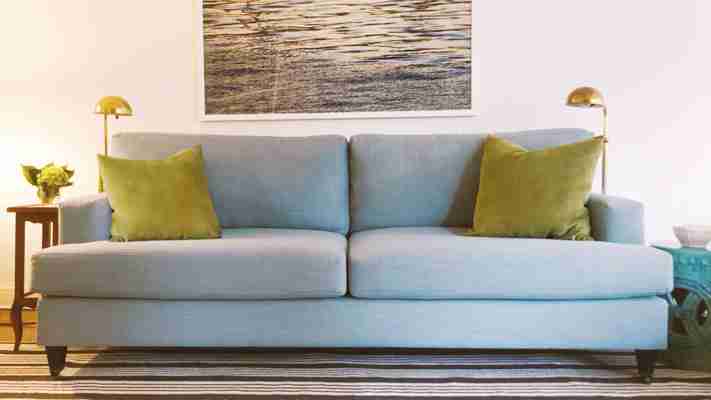 Sofa ideas for a small living room
The Classic Sofa
If you're looking for a timeless silhouette that is unparalleled in comfort, take a peek at The Inside's Classic Sofa. The Classic Sofa is a two-seater on small wheels that looks good in just about any upholstery and can fit just about any aesthetic, from mid-century to traditional. We also love that its wheels allow you to change your interior layout depending on the occasion and can be moved to different parts of your interior for additional functionality. In fact, sofas dating as far back as the Ottoman Empire have featured tapered feet on wheels (known as casters) which allowed the sofa to be moved against the wall when not in use and moved to the center of the room when napping.
Pinterest
Shop the look: Classic Sofa in Seaglass Linen
The Modern Sofa
For a more modern (and less traditional) vibe, opt for a Modern Sofa. The Modern Sofa is a sleek and stylish silhouette, and like the Classic Sofa is available to customize in more than 100 different fabrics. The sofa is seated on either bronze, brass or chrome geometric legs. This minimalistic, streamlined style featuring clean, modern lines creates the illusion of additional space. Although the sofa is very sturdy, it has a slim profile with low armrests and a low back.
Pinterest
Shop the look: Modern Sofa in Cornflower Classic Ticking Stripe
The Chesterfield Sofa
Aiming for something a little more sophisticated? A traditional chesterfield sofa, which features a boxy frame, chunky rolled arms and button tufting, evokes elegance and formality. Chesterfields are available in a variety of dimensions and are quintessentially a leather sofa. If you love the look of a chesterfield but are wary that the boxiness will overwhelm your living space, consider a chesterfield club chair – the best of both style and size!
Small love seat ideas
A loveseat is petite two-person sofa that is wider than a traditional armchair, but smaller than your standard sofa. Because of its smaller profile (which was originally designed in the 1600s for two women with dresses to sit on), a loveseat gives you more flexibility to add other complementary furniture pieces to your small space without compromising on comfort. Pairing your small sofa with an upholstered cocktail ottoman or solid wood coffee table, along with a pair of drum ottomans, creates balance and visual interest that you may not have had in your small space if you opted for a full-sized sofa.
Ideas for sectional sofas
It might come as a surprise, but a sectional sofa can work in small living room! While it may feel counterintuitive to opt for a sectional in a small space, if you find the right one, it can actually save you square footage. For example, The Inside's 4-seater Modern Sectional can frame your living room for comfy, luxe lounging. This two-piece sectional clips together easily and works well with limited space by providing ample seating that eliminates the need for additional accent chairs. The chaise is also available in right-facing and left-facing orientations, so you can choose the configuration that best suits your space. While this sectional measures in at over 100 inches long, there are also options on the market available under 90 inches (or less!). Either way, you've got options.
Pinterest
Shop the look: Modern Sectional in Lapis Lanai
Small sleeper sofa ideas
Wish you had the space to host overnight guests, but don't have the luxury of a guest room? Or maybe you're in a studio apartment and want to max out you're living space? In any small space, it's crucial to invest in pieces that can do double duty. A sleeper sofa with removeable seat cushions does just that. Sleeper sofas are multi-functional and are excellent for saving space. If you want to use your living room as a primary bedroom, try a sofa bed with built-in storage units. This allows you keep extra throw pillows, bedding and other personal belongings hidden to avoid clutter and the need for additional pieces of furniture that might not fit into a small space.
If you want your living room to serve as a spur-of-the-moment guest bedroom, explore futon and settee assortments. A futon is a great way of keeping your furniture minimal and visually light while still having the added benefit of the two-in-one functionality. The settee has a slender profile with comfortable long seat and back cushions, making it a great alternative for a sleeper sofa and futon. Its raised and small profile brings a cozy yet expansive atmosphere to a small setting.
Small space accent chair ideas
If you're set on incorporating accent chairs in your interior but are concerned it will make your room feel cramped or cluttered, focus on the chair's materials and shape. Chairs that have clear, woven or minimalist backs, or that feature upholstery over a wood frame with longer legs, can appear less visually bulky and smaller than they actually are. Another way to incorporate extra accent seating without overcrowding is to opt for dining chairs that can moonlight as accent chairs. Dining chairs tend to have a more minimal profile than traditional accent chairs, and could fit perfectly in the dead space in your living room to create that cozy little reading nook.
Pinterest
Shop the look: Slipper Chair in Henna Cheetah
Small space ottoman ideas
Ottomans are chic and practical piece of custom furniture that can easily be incorporated into any small living space. Their size, functionality and mobility make them must-haves if you are trying to incorporate additional furniture accents while still maintaining order and breathability in your living room. Ottomans are excellent space savers because they can easily be moved around depending on the occasion and serve as side tables, sneaky seating and footrests. And when not in use, stow them under a console for next time. Our favorites for any small space are Storage Ottomans, as you can tuck throw blankets, kids' toys, and just about anything else inside to avoid extra clutter. We love looking for microfiber performance fabrics that are durable to stains and regular use as a footrest.
Pinterest
Shop the look: Skirted Storage Ottomans in Fawn